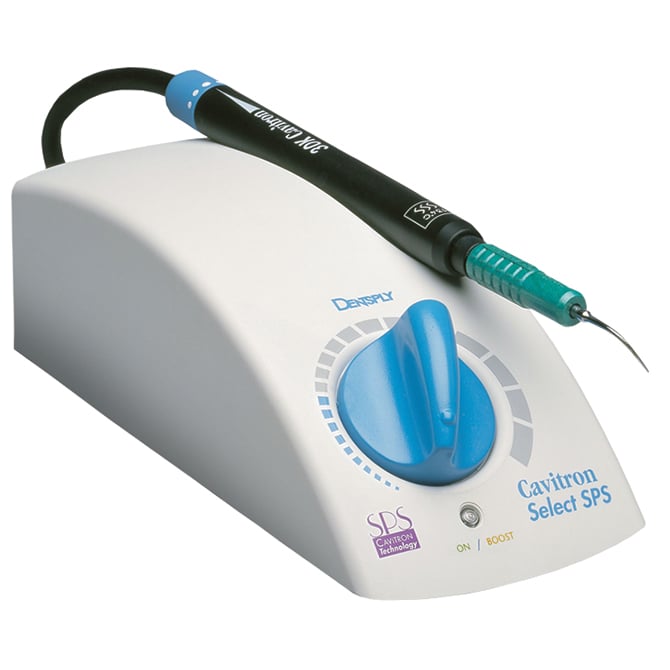 Cavitron
To provide our patients with the most thorough and efficient cleaning, our hygienists utilize ultrasonic scalers for their routine and deep cleanings, in combination with traditional hand-scaling. Not only will it will cut down your overall chair-time for the type of cleaning is necessary for you, but will also provide you with a more predictable and comprehensive dental cleaning.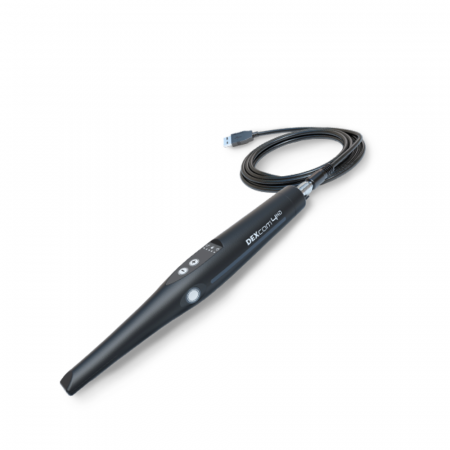 DEXCam Intraoral Camera
For early detection and accurate representation of dental conditions, an intraoral camera is essential to delivering optimum quality of care. Our DEXcam 4 HD yields remarkably clear and focused images in real-time that are crucial for diagnosis and for fully documenting patients' overall oral health.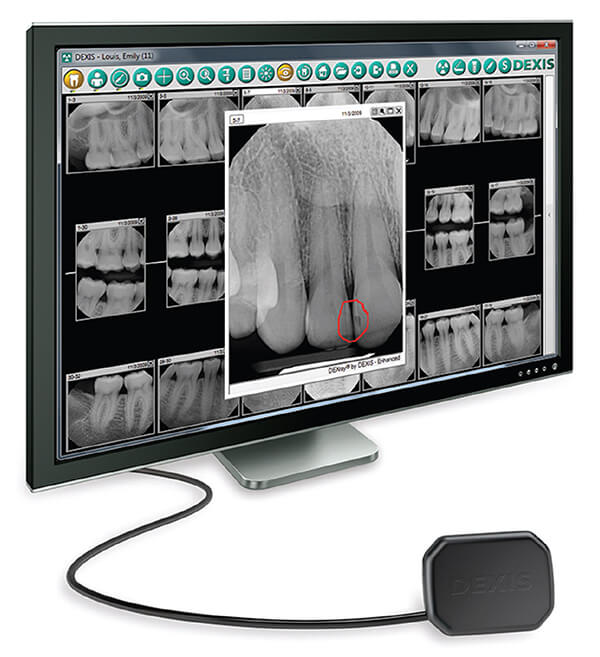 Digital X-rays
Our team uses digital dental X-rays as part of our examination of your teeth and surrounding structures. Dental X-rays are one of the many diagnostic tools available at our office. They are used to help us diagnose and treat existing conditions or potential problems as early as possible so that we can help you keep your mouth and smile healthy.
Digital dental X-rays are very safe. In fact, digital X-rays produce less radiation than what you would normally receive from the sun in a single day! The imaging process is also quick and comfortable, with the captured images of your mouth being ready to view immediately after the X-ray process is completed. These detailed images of your teeth and supporting structures make it easy for our dentist to identify developing problems and develop an appropriate treatment plan.
Dental X-rays allow us to diagnose and treat a variety of problems, including:
Cavities, including tooth decay between the teeth
Developmental abnormalities
Improper tooth root positioning or premature root loss
Hard/Soft tissue problems, such as tumors, cysts, bone loss, and abscesses
Fractures in the teeth
Infections in or around the teeth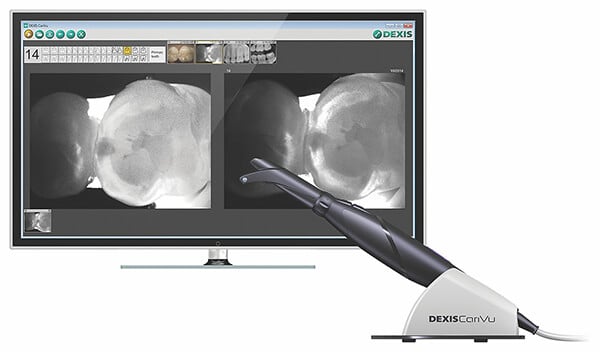 Cari-Vu Intraoral Camera
The Cari-Vu cavity detection system is a state-of-the-art technology used to diagnose tooth decay before it can develop enough to cause serious damage to your teeth and smile. This light-based cavity detection system can help our dentist diagnose cavities and guide their treatment in the earliest stages of development, often before they become visible to the eye.
Cari-Vu technology is quick and comfortable to use. It detects tooth decay by using:
Light and transillumination- along with the translucent properties of tooth enamel that causes natural tooth structure to take on a nearly transparent appearance and allows decayed tooth structure to appear darkened, similar to what you would see on a standard dental X-ray.
A patented light source and an electronic system, which includes a digital camera. This system is housed in a lightweight handpiece that is easily maneuverable.
Photographic images that are transmitted directly to our software to give a near-instantaneous image.
Flexible, comfortable tips that are minimally invasive, comfortable and easy for our team to sanitize and disinfect afterwards.
The high-quality images captured by the Cari-Vu system can be displayed with other images of your teeth and supporting oral structures to give a more comprehensive view of your mouth and oral health. Additionally, this cavity detection system is a very helpful addition to the diagnostic technology that does not expose you to radiation and is a very safe option for pregnant women or for children and patients who are averse to X-rays.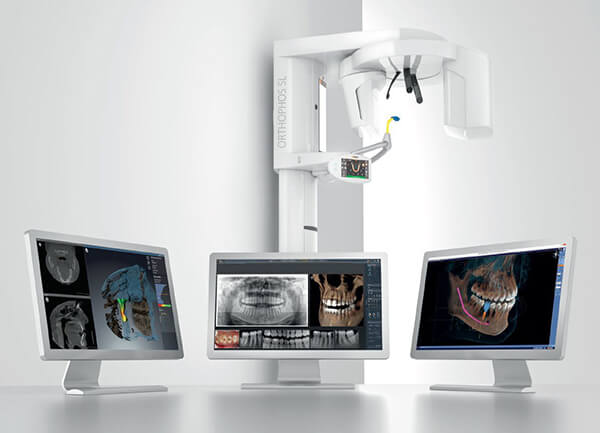 CBCT / 3D X-ray
3D Cone Beam Imaging with Sirona SL 3D takes the guess work out of digital imaging and the 3D image is a powerful diagnostic tool. In just 14 seconds your doctor has a high quality and detailed 2D and 3D image, using much less radiation than traditional x-rays. Your doctor can switch from 2D to 3D seamlessly with the same software. It can be used for intraoral, panoramic and cephalometric x-rays, with 2D and 3D CBCT systems.
Not only does it give the doctor a powerful instrument, but the 3D image helps patients visualize the treatment recommended by the doctor. The patient can see exactly what the doctor sees and understand their treatment options better. Using digital imaging and software, the 3D images offer your doctor an unprecedented level of clarity and sensitivity. Cone beam 3D images are far superior than traditional x-rays and 2D images. They can be manipulated to enable the doctor to see the image from different angles giving him a powerful diagnostic tool.
Cone beam imaging has its roots in the 1970's with the development of CAT scans. Unlike CAT scans, which use a fan shaped beam of radiation which rotates around the patient, cone beam uses a cone shaped beam which is directed at a detector rotating around the patient. Patients stand with their head and shoulders inside of a scanner and digital 3D images are taken. These show up in real time on the computer monitor and give your doctor immediate information.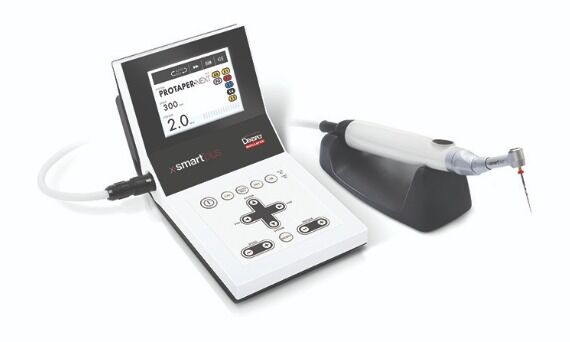 Wave One Endodontic (Root Canal) System
One of the latest innovations in dentistry is the Wave One Reciprocating Endodontic File by Dentsply. The Wave One allows for the doctor to make precise drills and perform a root canal more quickly and efficiently.
What sets the Wave One apart from traditional methods of performing a root canal is the control it gives the doctor. With the rotary based endodontic system, the Wave One helps the doctor determine the most beneficial drill for each tooth. Once the path is confirmed the doctor applies pressure and the Wave One makes the drills precisely and easily. The Wave One instrument is strong and able to perform in even the most curved canal. This means less time and effort translating into less chair time for our patients.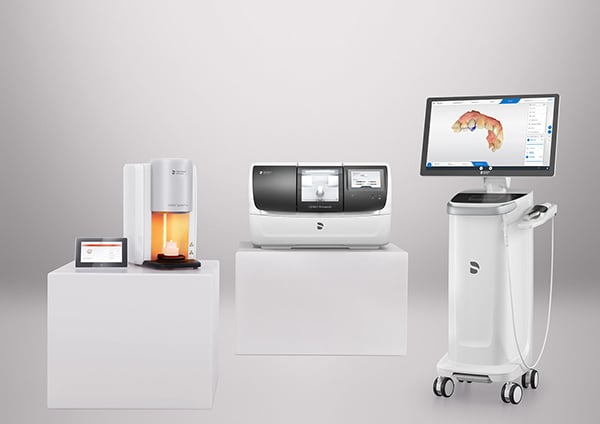 CEREC Primescan, Mill and Speedfire Oven
CEREC®, for short, is a new state-of-the-art method of digitally constructing tooth restorations in-office. CEREC® uses computer-assisted design (CAD) and computer-aided manufacturing (CAM) to offer single-day restorations for patients. This new technology has revolutionized ceramic restorations, such as crowns and veneers for patients, so that there is no longer a wait between preparing the restoration and finally receiving the finished product. The restorations created are metal-free and tooth-colored to restore your tooth to its natural beauty, strength, and function. With CEREC®'s CAD-CAM technology, these ceramic crown and veneer restorations can be completed in one-single-visit to the dentist.
Most procedures can be done in one visit; bridges may not be able to be completed in one visit due to extensive designing and manufacturing time for those larger restorations.
Less costly for patient and less time-consuming
Fewer uncomfortable injections due to single-visit
No need for messy impressions
No need to have a temporary restoration for time between preparation and delivery
Ability to save as much natural tooth structure as possible
Longer lasting restorations – may last over 10 years
Restores teeth to natural beauty, function and strength
Metal-free restorations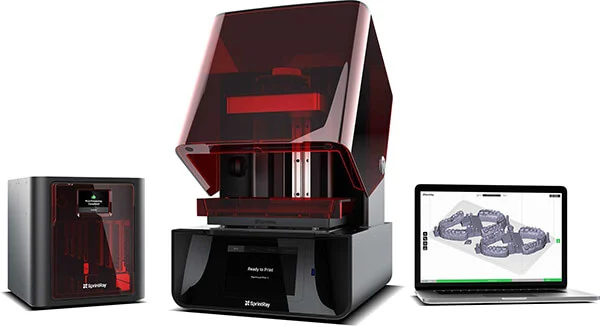 Sprintray Pro 95 3D Printer
SprintRay Pro 3D printer is an excellent addition to our dental office in order to eliminate messy impressions, while providing extremely accurate digitally printed replication of a patient's mouth, teeth, gums, etc. This 3D printer facilitates in-office production of models and appliances that translates to quicker turn-around time for your dental appliances and treatment planning. We routinely use this 3D printer for Study and Wax-up Models, Surgical Guides, Models for Aligner Production, and Occlusal Guards.
Your Greeley Dentist
If you are looking for quality dental care in Greeley, don't hesitate to reach out to the team at Clearwater Dentistry. From cleanings and exams to implants and veneers, we have the services you need to maintain a healthy, beautiful smile.
We understand how important it is for our patients to feel relaxed during their visits, which is why we strive to make our office as comfortable and inviting as possible. Our mission is to provide exceptional dental care with a personal touch. We are here to help you get the most out of your oral health and maintain a beautiful smile for life!
Call us at (970) 515-3550 or complete the online booking form. For the best dentist in Greeley, Johnstown, or Evans, CO, visit Clearwater Dentistry.