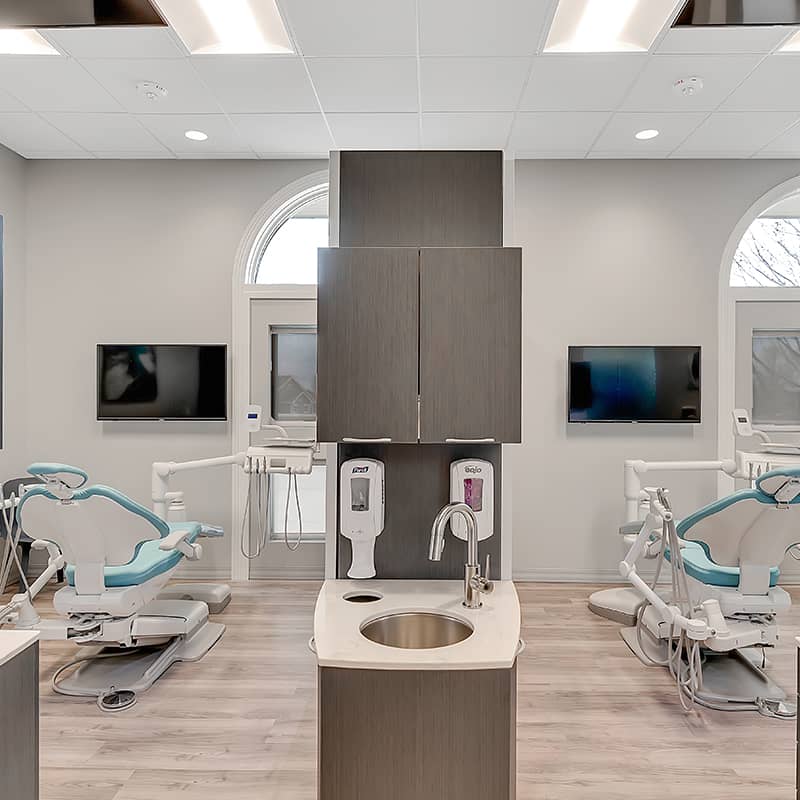 The Best Dentist In Greeley
Clearwater Dentistry is a proud community member of the great city of Greeley, CO. With its panoramic views of the Rocky Mountains and proximity to numerous outdoor activities, Greeley is the perfect place to call home. With over 300 days of annual sunshine, it's no wonder why so many people are flocking to the area.
For the avid golfer, visit Eaton links or the Highland Hills Golf course for a round or two. If you enjoy walking and hiking, visit the Pawnee National Grassland. Enjoy the beautiful flowers, wildlife, and amazing Pawnee Buttes that tower 300ft over the prairies.
For all the foodies out there, take your pick from one of the amazing eateries Greeley offers: Lucky Fins, Texas Roadhouse, or Old Chicago Pizza + Taproom. Come and see all our city has to offer; you won't be disappointed!
The Clearwater Difference
At Clearwater Dentistry, we take pride in providing comprehensive dental care to our patients. Our experienced team is dedicated to your oral health and happiness. We provide a wide range of general, cosmetic, restorative, and preventative services. Our modern facility utilizes cutting-edge technology and techniques to ensure comfort and peace of mind. We take the time to listen to your concerns and explain treatment options so that you can make an informed decision about your dental care. Call us today at (970) 515-3550 or complete the online booking form.
Dental Implants Greeley
If you're looking for a permanent solution to missing teeth, dental implants may be the answer. Dental implants are artificial tooth roots surgically placed in your jawbone and topped with a crown or bridge to restore the look and feel of natural teeth. Dr. Baughman specializes in placing dental implants with precision and care. If you have questions or concerns about dental implants, we'd be happy to address them.
Clear Braces Greeley CO
We are also proud to offer SureSmile clear braces in Greeley. This revolutionary orthodontic system of clear aligners provides an effective solution for improving the alignment of your teeth, giving you a beautiful smile. Our experienced team can provide the care and personalized attention needed to give you the perfect results.
We understand that orthodontics can be a big commitment, which is why we go above and beyond to ensure our patients are comfortable throughout the process. We will keep you informed every step of the way and work with you to find an affordable treatment plan that meets your needs.
Dental Exams and Cleanings Greeley CO
At Clearwater Dentistry, we recommend that our patients receive dental exams and cleanings twice a year. During these routine appointments, Dr.Baughman will thoroughly inspect your teeth for signs of decay or disease and provide the necessary treatment.
We also provide screenings of your mouth, neck, and jaw area for any signs of cancer. We use state-of-the-art technology like digital x-rays to ensure accuracy. In addition, our skilled hygienists will use ultrasonic scalers and other tools to remove any built-up plaque or tartar from your teeth.
We know regular cleanings and exams are the keys to optimal oral health, so don't hesitate to reach out if you have any questions or would like to schedule an appointment!
Emergency Dentist Greeley
We understand that dental emergencies can happen at any time, and that's why we make ourselves available to our patients during emergency situations. We understand that these issues can be very distressing and take the necessary steps to get you the treatment you need right away. Whether it's a broken tooth or a painful abscess, we are here for you!
Teeth Whitening Greeley CO
We all want a beautiful white smile, and our experienced team can provide you with the tools you need to achieve your goals. In-office Phillips Zoom whitening is one of the quickest and most effective methods for restoring your teeth's natural color. We also offer take-home whitening kits that allow you to whiten your teeth at your own pace and convenience. If you have any questions or want to learn more about our teeth whitening services, don't hesitate to contact us.
Porcelain Veneers Greeley CO
Porcelain veneers are thin shells of porcelain that bond to the front surfaces of your teeth. Veneers can be used to correct misshapen or crooked teeth, as well as repair discolored or chipped enamel. Our experienced team can help you create a unique and beautiful smile with same-day porcelain veneers that look and feel natural. These veneers will give you the confidence to smile and show off your pearly whites!
Your Greeley Dentist
If you are looking for quality dental care in Greeley, don't hesitate to reach out to the team at Clearwater Dentistry. From cleanings and exams to implants and veneers, we have the services you need to maintain a healthy, beautiful smile.
We understand how important it is for our patients to feel relaxed during their visits, which is why we strive to make our office as comfortable and inviting as possible. Our mission is to provide exceptional dental care with a personal touch. We are here to help you get the most out of your oral health and maintain a beautiful smile for life!
Call us at (970) 515-3550 or complete the online booking form. For the best dentist in Greeley, Johnstown, or Evans, CO, visit Clearwater Dentistry.